Featured Limo Bus
---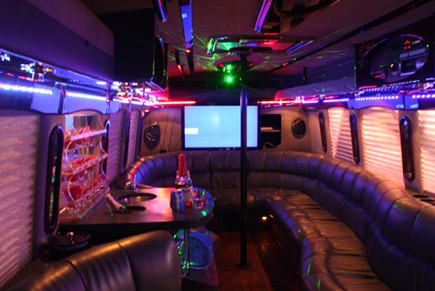 You are probably wondering why our company is the best of the best in the luxury entertainment transportation industry. There are many good reasons for this. First and foremost, we only acquire the highest quality vehicles. Then we take those vehicles and we install the most amazing features and amenities so that the fun and excitement will never end while you are riding. In terms of safety, we take that very seriously because we truly care about out customers. We have certified mechaincs on staff who regularly inspect and maintain our entire fleet. What this means for our customers is that all of our vehicles are always road worthy and you will never have to worry about being left stranded on the side of the road or not making it to your destinations. Add to this the way we care about the quality of our interiors. Our company hires professional detailers whi meticulously clean every inch of each vehicle's interior between uses. You will feel like you are stepping into a brand new vehicle. And we can't forget about our drivers. They are all certified and experienced and they are equipped with GPS. This means there will be no getting lost. We have another team member that will treat you in a very special way and that is our customer service agents. Our specialists are well trained and they know our business very well. They truly care if you are well informed and if you and your group are fitted to the perfect vehicle. We hope this helps explain why we are the best in the industry.
Brief Overview
---
You're here, and we are glad to have you! Take a look around our site, and you'll find a great amount of information about our awesome company and the spectacular Limo Buses we offer. People come to Houston Limo Bus for many reasons: It might be the weekend, and you'd like to celebrate the arrival of your weekly freedom by gathering your friends together for a night of fun. Or, perhaps you're getting married soon, and would like to arrive in more room and comfort than a traditional limousine can provide. You might also be a best man, or maid of honor. You will find that there really is no better bachelor or bachelorette transport than one of our Limousine Buses. Whatever the reason might be that brought you to us, know that we have the most luxurious line of vehicles in the area, and can provide the best service with our classy transportation for any event you might have on your horizon. And we can't think of a better place to investigate than Houston. The Houston area has many fascinating must see destinations including the Johnson Space Center, Buffalo Bayou, the Galleria and the Houston Zoo just to name a few. But these destinations will be nowhere near as fun unless you engage with us to drive you to them.
So, you are in the right place. We highly recommend that you peruse our website and learn everything that you can about what we do. We have a fleet page which shows you our assortment of wonderful vehicles. ANd you will also want to look at our frequently asked questions page which may list out some of the questions you end up having. As you are reading, make sure that you have a notepad and pen available to jot down any questions or concerns that come up. It is our goal to inform all of our customers or potential customers to the highest degree possible. It is how we would want to be treated and it goes along with our company policy of treating our customers like family. When you have finished and you feel ready to contact us, feel free to call our customer service office. You will be asked a few simple questions and our specialist will patiently answer any questions that you might have.
So by now we hope you have decided to take the plunge and procure a Limousine Bus for your event. You can take confidence when you rent from us, in knowing that you will receive a level of service and quality that is unparalleled in the Houston area! We take our business very seriously, and go to great lengths to insure that we have only the very best and most professional staff in place to serve your every need. In that light, we've gone even further to hand-pick only the finest professional chauffeurs in the Houston area. When you're ready to reserve, give us a call! You'll be glad you did. We will talk to you for as long as you need and you will be treated like absolute royalty. Check us out and put us to the test.